---
Exploring St Patrick's Traditions &
How To Show Off Your Irish Style
---
There's this great old Irish saying – it goes a little like "There are only two kinds of people in the world. The Irish and those who wish they were." And for 24 whole hours on St Patrick's Day 2020, we'll all be Irish.
But even though we dress up and wear green to all these wonderful St Patrick's Day events year in year out, very few of us know the history of St Patrick's Day, AKA St Paddy's Day.
St Patrick's Day - A Short History
Today St Patrick's Day often means dressing head to toe in green, drinking green beer, attending St Patrick's Day parades, concerts, and much more. But this Irish celebration has a long history, which marks and honours the death of St Patrick, Ireland's patron saint, whose life remains a bit of an enigma despite people around the world celebrating this annual event.
His name has long been associated with accounts of him eradicating all the snakes from Ireland, but such stories are just products of centuries of embellished storytelling. In fact, he wasn't even Irish; he was British!
Born to a wealthy British family, who weren't particularly religious, he was kidnapped and taken hostage at the age of 16 when his family's estate was ransacked by a group of Irish thieves. Taken to Ireland and held captive for 6 years, Patrick worked as a shepherd. It was at that time, at the height of feeling isolated and lonely, that he turned to Christianity.
Best known for his visions, which he saw as messages from God, Patrick paid heed. The first vision told him he had to escape and return to Britain, which he did by walking over 200 miles to get home. A second conflicting vision told him to then go back to Ireland and spread the message of Christianity, which he also followed through. It was while in Ireland for the second time that he led a religious mission that spanned over 15 years, during which time he was also ordained as a priest.
He was a hero in Ireland, mainly because he went above and beyond to encompass Irish traditions and culture, making sure to incorporate them as much as possible into his religious teachings instead of trying to get rid of them like previous missionaries. He introduced bonfires at Easter, as the Irish worshipped their gods with fire. And if you're wondering about the iconic Celtic cross – this was also Patrick – he superimposed the image of the sun, a formidable Irish symbol, onto the Christian cross.
The rich Irish culture was based on legends and myths that had been passed down from generation to generation, so it comes as no surprise really that over the centuries his life story became exaggerated and blown out of proportion.
But why do we celebrate St Patrick's Day?
St Patrick's Day hasn't always been about green beer and fancy dress. Celebrated on March 17, which is the anniversary of his death and falls during Lent, traditionally families went to church and then celebrated. The strict Lenten embargoes were lifted, and people ate Irish bacon, drank alcohol and danced. Now people everywhere, Irish or not, commemorate this day with parties, St Patrick's Day parades, and other events.
Who doesn't love a good St Patrick's Day parade? Come March 17, some of the biggest cities in the world, hold St Patrick's Day parades, with the most impressive one being in NYC, which is where it all began back in the 1760s.
The popularity of the St Patrick's Day parade grew as Irish Catholic immigrants in the US were met with discrimination from the Protestant majority. Those parades were the Irish Catholics' only way of celebrating St Patrick's Day and showing strength in numbers.
Strangely, St Patrick's Day parades weren't even a thing in Ireland until the late 20th century when the government began sponsoring large-scale St Patrick's Day events in the country's capital of Dublin.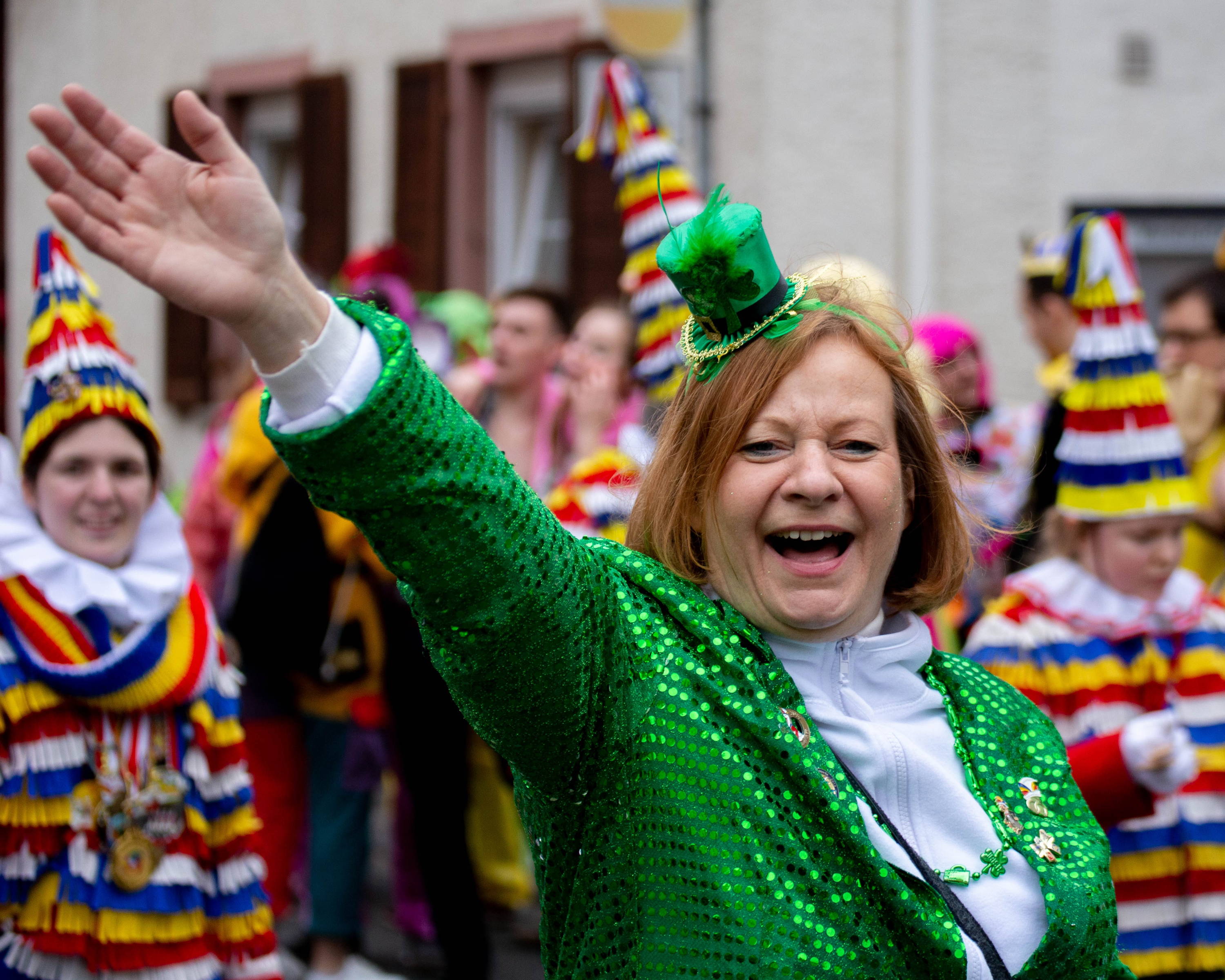 St Patrick's Day Events Around The UK

March 17 is when people in the UK celebrate St Patrick's Day and their Irishness - true or imagined.
Forget the complicated history between the Irish and the UK, there are still a number of cool St Patrick's Day events to attend.
From St Patrick Day parades to festivals, here are how some of Britain's largest cities are celebrating. So don something cute and green, and head to one of these awesome St Patrick's Day events near you.
St Patrick's Day in London

Partying in London is cool enough as it is, but St Patrick's Day in London is something else. In fact, St Patrick's Day in London turns into an entire weekend of partying and fun as celebrations run from Friday right through to the Sunday.
 All things Irish are celebrated and performed in England's capital, which includes step dancing performances that rival those of Riverdance, stand-up Irish comedian performances, and of course the annual St Patrick's Day parade in London, which falls on March 15 this year.
The St Patrick's Day 2020 parade showcases Irish military marching bands, community groups, schools, sports clubs, and more. To catch the start of the London St Patrick's Day 2020 parade, head to Piccadilly at noon.
Of course, St Patrick's Day in London wouldn't be St Patrick's Day without raising a Guinness (or two) in an authentic Irish pub, which London has no shortage of. Here are some of our favourite Irish pubs in London to celebrate St Patrick's Day 2020 in good spirits.
Located on Fleet St, The Tipperary is not only a famous Irish pub in London it's also the oldest. Over 400 years old, this old journo's pub prides itself on its high-quality ales. You'll also get a chance to feast on some traditional Irish fare such as liver and bacon and boiled bacon and cabbage.
The Porterhouse in Covent Garden is the flagship branch of the Porterhouse Brewing Company in Ireland. Divided over three main and several mezzanine levels, this Irish bar in London has probably the best beer of the world selection in the entire capital. The Porterhouse has a total of nine house beers, all of which were brewed in Dublin.
Waxy O'Connor's is another great Irish pub in London to continue with your St Patrick's Day pub-crawl. This cavernous bar, which has a huge tree trunk running up through the pub's centre, is not too dissimilar to a church's interior with its pulpits that overlook the bar below, wooden benches, and secret nooks and crannies everywhere you turn. When it comes to Irish pubs in London, this one trumps, and the menu, which includes mutton pot stew, traditional Irish stew, and an all-day breakfast, is also pretty amazing.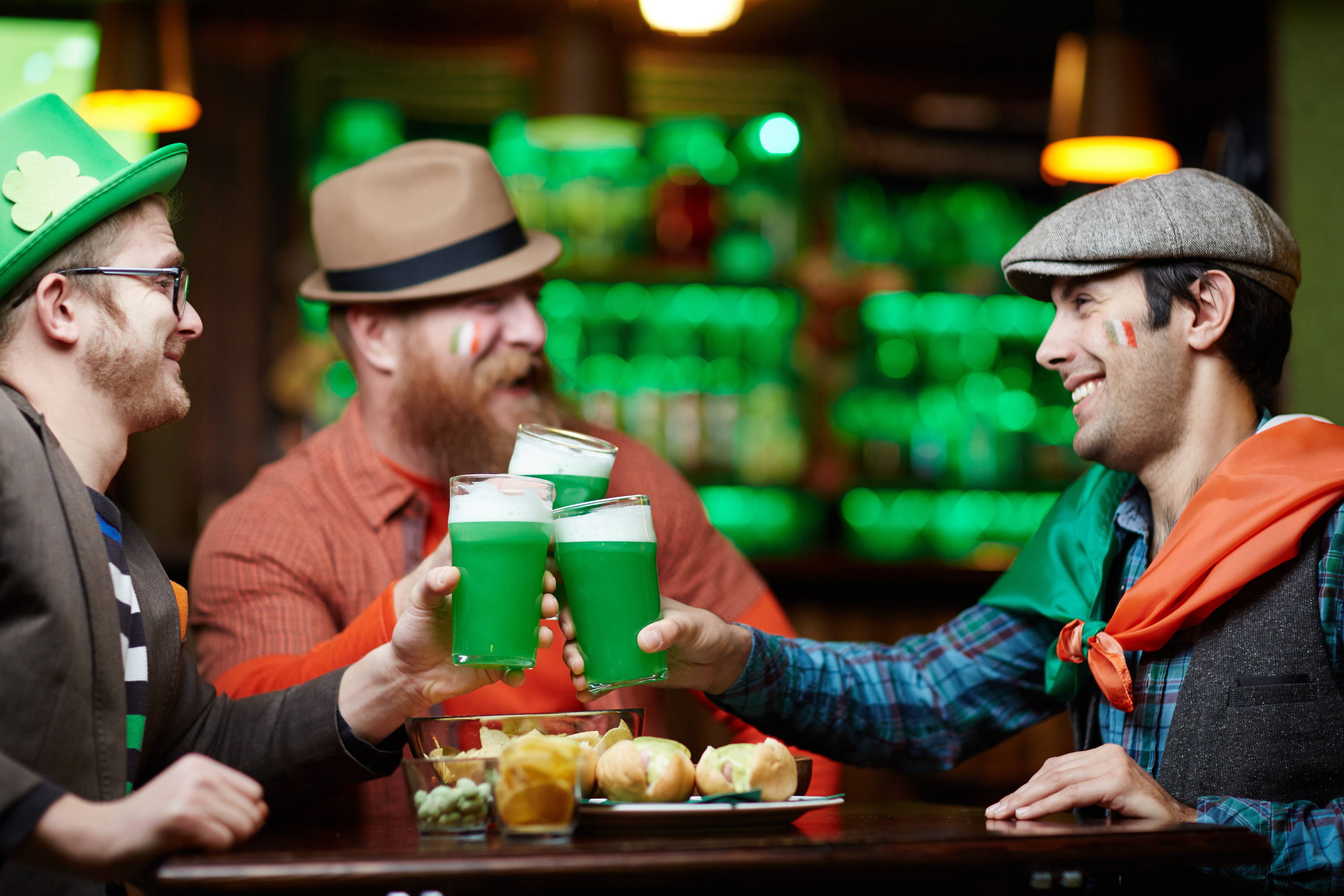 St Patrick's Day in Manchester

London may be the capital, but the biggest St Patrick's Day parade in the UK takes place in Manchester. With well over 70 floats, marching troupes and Irish bands, this famous St Patrick's Day parade snakes through the streets of Manchester, starting from the Irish World Heritage Centre. As well as being the starting point of the parade, the Irish World Heritage Centre also has many St Patrick's Day events going on, which are listed on the Manchester Irish Festival website. And if you thought that the three-day-long celebrations in London were excessive, St Patrick's Day events run throughout the entire month of March in Manchester.
The Frog and Bucket Comedy Club is one of the best standup comedy joints in the city, and boy do they love a good holiday special, St Patrick's Day 2020 being no exception. This year, some of the best Irish comedic talent, including Rory O'Hanlon, Peter Flanagan, and Andrew Ryan will take centre stage to provide the audience with plenty of bellyaching Irish humour.
For frothy green pints and lashings of traditional festive fare, head on down to Waxy O'Connor's in Manchester where international DJs will play well on into the night to celebrate St Patrick's Day 2020 good and proper.
The aptly named Whiskey Jar in Manchester's thriving Northern Quarter is a cosy yet modern Irish pub with comfortable leather sofas and amazing homemade scotch eggs and pies. If you're going to head to The Whiskey Jar for St Patrick's Day this year, be sure to book Monday off, because it's going to be huge – expect free drinks and games of whiskey pong.
St Patrick's Day in Birmingham

Like Christmas in Birmingham, St Patrick's Day in Birmingham is just as big, perhaps a little more raucous. As it does with its annual Christmas markets, the city goes all out, and St Patrick's Day 2020 is no exception.
The city attracts around 100,000 people, and the St Patrick's Day Parade in Birmingham is rumoured to be third biggest in the world with more than 60 floats and over 1,000 marchers. A highlight of the parade would have to be the mass pipers' performance. This weeklong Irish festival in Birmingham is full of dancing, music, comedy skits, and family events.
Alongside the annual St Patrick's Day Parade, you'll find The Emerald Village on Bradford Street where you can take in some great live music and dance the afternoon and night away starting at 2 pm. The Emerald Village isn't just about green beer and drinking, it also makes for a great family day out with several kids' activities, a funfair, and even a petting zoo.
For a real Paddy's Day Fest and an unmatched merry atmosphere, Birmingham is your place. This St Patrick's Day event is the highlight of the week. With free-flowing Guinness, live music, Irish food traders serving up traditional and nostalgic foods, Irish dance troupes, Irish pop classics, face painters, and more.
For something a little different and tippling tales and Celtic stories, visit the Gunmaker's Arms, where you'll be able to hear some of the best Celtic mysteries and horror stories this St Patrick's night.
St Patrick's Day in Edinburgh

St Patrick's Day 2020 looks set to be huge. Known for its festivals and parties, Edinburgh's St Patrick Day events and celebrations, which also include a festival fringe, won't disappoint.
For a family day out, the Portobello Pageant is a great St Patrick's Day event. With many activities and live traditional Irish music including pipe bands, this is a fun way to celebrate and get a bit of fresh sea air breeze at the same time.
St Patrick's Day in Edinburgh also gives you a great excuse to get dressed up to the nines with its annual St Patrick's Day Charity Ball, which takes place at the Sheraton Grand Hotel and Spa. This charity ball is a key event for the local Irish community (and friends). Plus, who doesn't love a black-tie event and good craic?
Like most other major UK cities, Edinburgh has its fair share of Irish bars. It's worth checking out both Malones and Biddy Mulligans, where you'll be able to relish the atmosphere while enjoying traditional Irish food, live music bands, and Guinness. And if you're a whiskey fan, Biddy's really is a must with its 80+ Irish whiskeys on offer.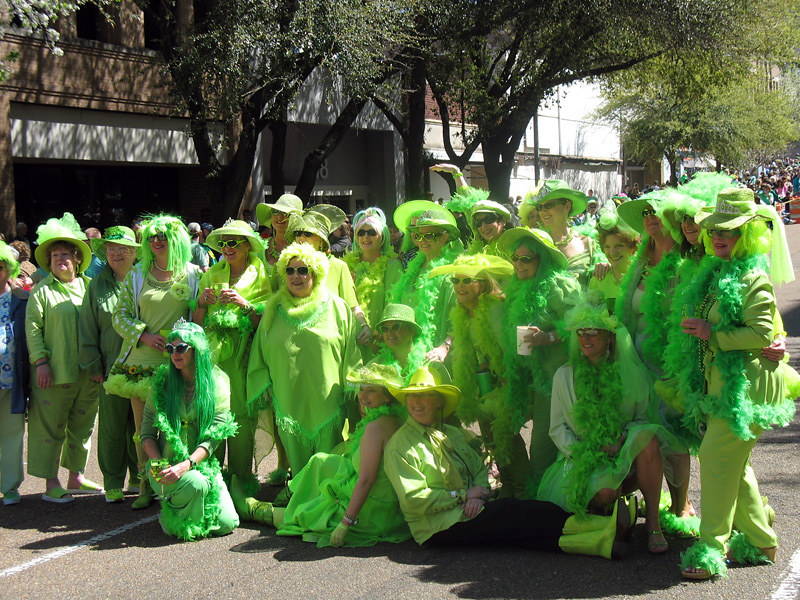 Wearing Green – A St Patrick's Day Style Guide

But why should we wear green on St Patrick's Day? In fact, why is everything green?
You'll be disappointed to know that green hasn't always been the colour of St Patrick's Day – it was once blue, but this all changed during the 17th century.
Green is the colour of St Patrick's Day for a few reasons. Firstly, it's one of the colours of the Irish flag. Also, throughout history, green has been used to represent different revolutionary groups, which seems fitting since the first-ever St Patrick's Day parade was formed to celebrate patriotism in immigrant America.
Ireland, with its lush green landscape and rolling countryside, is also known as the "Emerald Isle", making it another fitting reason to wear green on St Patrick's Day. Not to mention, green is also the colour that represents the shamrock and spring.
But what about the old saying "pinch me, I'm Irish"? What does that have to do with wearing green on St Paddy's Day?
Quite a lot actually!
While you don't have to dress head to toe in green, wearing something green is a bit of an unwritten rule amongst the Irish, because if you don't, it's likely you'll get pinched.
This Irish-American tradition of pinching dates back to the early 1700s when revellers celebrating St Patrick's Day events believed that wearing something green made you invisible to leprechauns, which were odd-looking fairy-like creatures that pinched anyone they saw not wearing green. People took on this role, pinching those that didn't wear green to remind them that the leprechaun's pinch was far worse.
So you want to dress up and wear green for your St Patrick's Day 2020 celebrations, but shamrock prints and leprechaun costumes aren't your things, don't fret! There are many beautiful green outfits and accessories you can wear. You'll also be on point as far as 2020 fashion trends go, as green is one of the colours of the season.
Here's how you can embrace the luck of the Irish with these beautiful "green" outfits.
Channel your inner boho girl with this forest green tunic dress, which can be easily worn with a pair of dark leggings in the cooler climes. For a more casual look for daytime drinks and St Patrick's Day parade watching, wear it with a pair of flats, or if you're making a night of it, a cute pair of kitten heels in black or gold will also work. Stacking several gold-plated bracelets will not only give you some serious boho vibes but also that image of the fierce Celtic heroine.
Green and gold make for the perfect St Patrick's Day outfit combination, making this short Miss June dress a winner for a night out dancing and craic. Wear this dress with a pair of chunky gold heels to create the ultimate St Patrick's Day event look. Add an extra layer of fun with a pair of tassel earrings that will shake and shimmer with every dance move.
This cute green crochet skater dress looks great dressed up or down. It has a festive enough feel to it but can easily be worn beyond your St Patrick's Day 2020 celebrations. Team it with a pair of thick tights and ankle boots for a safe bet, or take it up a notch and wear a pair of white contrasting trainers to achieve that real "skater look".
If you've got a family St Patrick's Day event to go to that requires being active, wearing a pair of leggings like these green tie-dye effect ones from Free People will look and feel great. They'll look amazing teamed with a casual tee, an oversized jacket, and trainers.
---
While this stunning maxi dress in green may conjure up images of palm-lined beaches, it would look great with layers to create that Celtic warrior princess look. Team it with an oversized blazer or cape and wear with chunky boots or a pair of Oxfords. If you're heading out for a day/evening of revelry, you'll need to keep your items safe – this contrasting strapless clutch complements the yellows in the dress.
Khaki is a shade of green; therefore, this simple plain tank from Free People technically checks the boxes. For a super casual look, perfect for relaxing in those Irish pubs over a pint of Guinness or two with friends, team it with a pair of faux leather trousers and skate shoes.
---
At Sand Dollar UK, we've got a variety of folkloric gold and green boho dresses that embody that fearless Celtic matriarch. To create a look that epitomizes the luck of the Irish, shop our new collection today.
Happy St Patrick's Day 2020 from the team at Sand Dollar UK