---
How to Wear Summer Dresses in Winter
---
From summer to fall outfits…who said you can't wear cute ditsy print dresses and maxi skirts when the temperatures drop and the dark evenings set in? In a similar way that our office and evening wardrobes can now marry (who has time to change?), repurposed seasonal wardrobes are growing in popularity.
There's no denying that there are some key pieces that will remain wholly seasonal; faux fur gilets and thigh-high boots being just two winter examples, but at the same time, there is a sizable part of your summer wardrobe that has the potential to bridge the gap and be repurposed into some original trendy fall outfits.
Here are just a few summer to fall transition outfits ideas and hacks that will inspire and allow you to continue wearing your favourite summer clothes through fall.
Layer Up – Dresses over Trousers
One of the hottest fall outfit trends this year is the dress-over-trousers look. Cool? Yes! Useful? Most definitely! The perfect way to breathe more longevity into your summer wardrobe, this practical South-Asian inspired trend allows you to wear your favourite maxi dress after the temperatures dip below 20°C. Layering colourful or printed summer dresses over either a pair of wide-leg or tailored trousers or even a pair of jeans will help you remain warm in the cooler weather and look stylish at the same time.
To gain some fashion-forward style points and add a splash of necessary colour to the usual bleaker coloured fall outfits, take heart from Pitusa, a brand known for its flattering vibrant maxi dresses, which will ultimately help you master the summer clothes in winter look.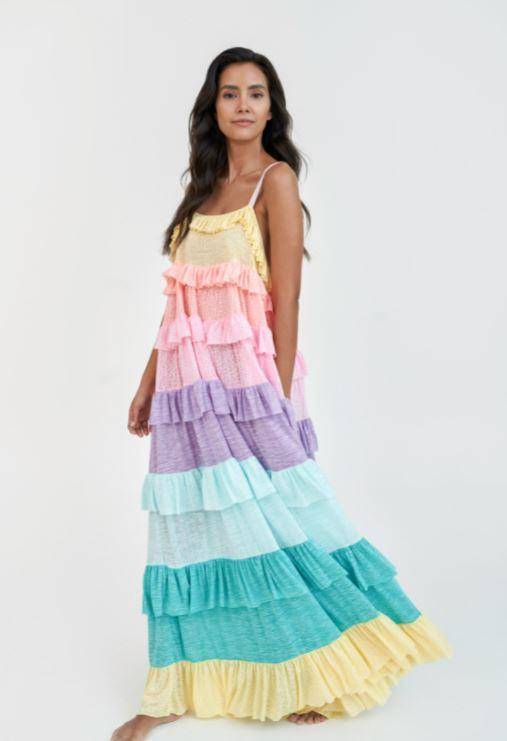 Summer Dress Transformation – Wear it with Boots
Just like layering your favourite summer maxi dresses over trousers, wearing them with a cute pair of boots is also another way you can style your summer maxi dress in winter. And if you're wondering, yes, you can totally wear that cute floral print dress in fall and winter – just add a pair of over-the-knee boots and go! Various maxi dress styles work with the summer to fall transition outfit look, but there are some brands, such as Miss June, that will never let you down, no matter the season.
Whether your chosen fall footwear are ankle or knee-high boots, it's 100% possible to transform those loose-fitting midi and maxi-length dresses and allow them to be key players in your fall wardrobe.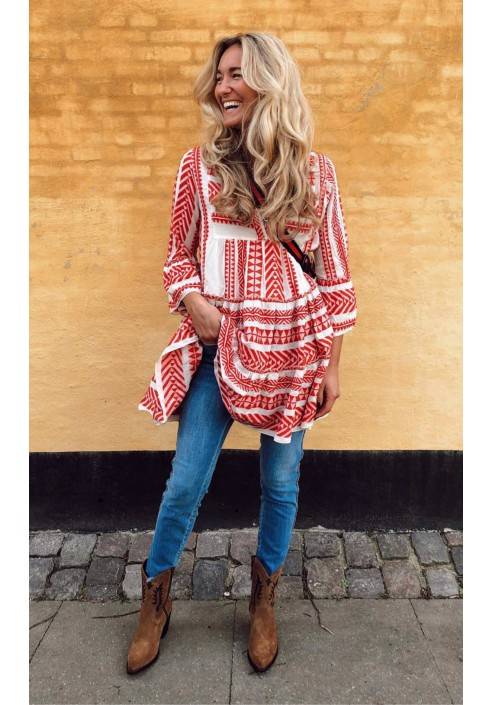 Flowing Maxi Skirts – Not Just a Summer Staple
If you live for maxi skirts in summer, there's good news, they can look just as good when worn as a trendy fall outfit. For the ultimate bohemian look in the cooler climes, style your favourite maxi skirt, like this striped Miss June number, with an oversized sweater in neutral tones and ankle boots. To take the maxi skirt fall look to the next level, throw on a cropped leather jacket to keep you cosy when the temperatures drop.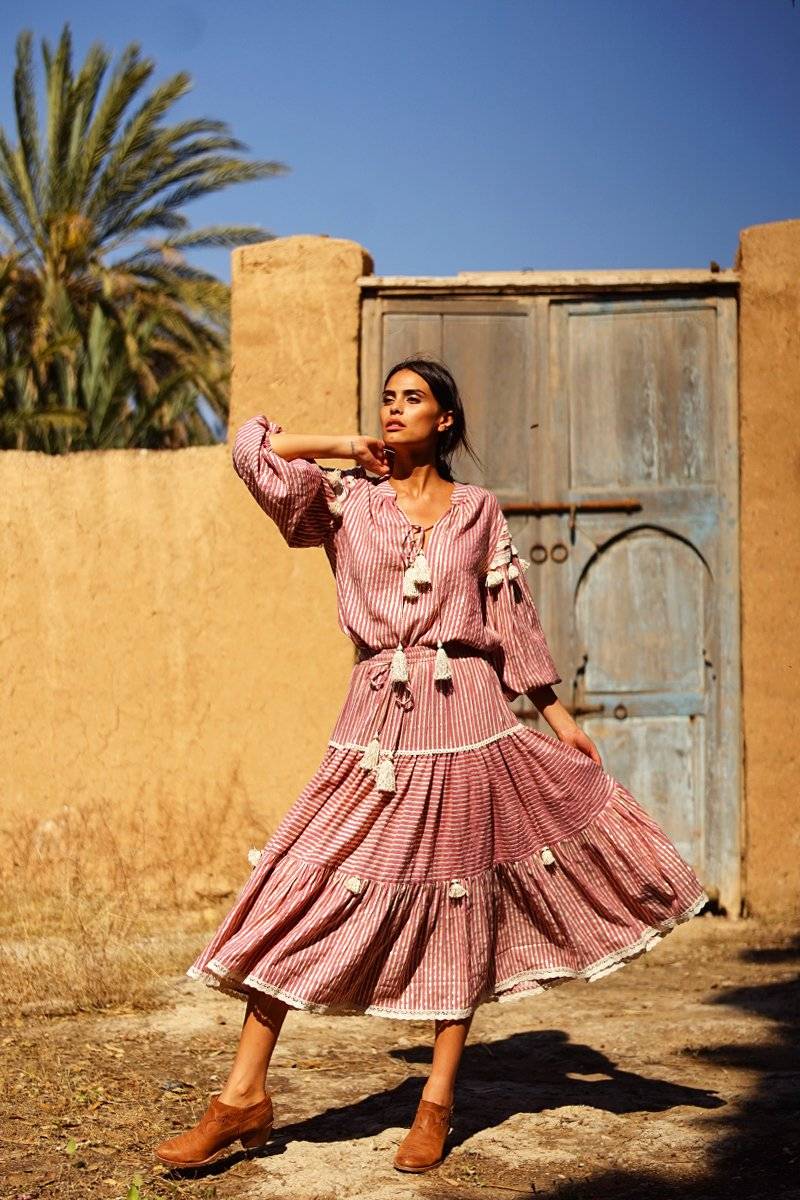 Playsuits and Rompers – For Winter Glam
The playsuit, otherwise known as a romper, conjures up images of hot sunny days, cool tunes, and lip-smacking cocktails. Although more commonly associated with summer fun, it doesn't mean you have to discard it as a fall outfit option in the cooler months. With a little bit of creativity and insight, it's totally possible to reinvent that cute summer playsuit.
The fundamental summer piece to show off your legs, you can take your playful romper from the blissful summer months right into fall and winter by simply styling it with a pair of black leggings or tights. Warm up your legs while looking sophisticated by wearing jumpsuits like the monochromatic Stripe My Beachy Side and the Palms Playsuit in black and teaming them with tights and a pair of heels, or if you desire more of a daytime look, style them with ankle heeled boots and a cosy knit cardigan. It's a look that exudes flirty feminine vibes.
Repurposed Swimsuits for Nights Out
Forget lazing about on a sun lounger in your favourite swimwear while hiding under a wide-brimmed floppy sunhat – those summer days have gone. But if you're a bit of a swimwear addict, it's possible your favourite poolside ensemble doesn't have to fester in your drawers until the sun rear's its face again. Did you know you could repurpose your swimsuit and create a killer evening fall outfit?
It's genius – wear a one-piece swimsuit to a club or for a night out! Slip on a pair of flattering high-rise skinny jeans to pair with a one-piece swimsuit to create a sexy bodysuit effect. Level up and take the look up a notch by adding a pair of killer heels and a clutch to the ensemble. Finish it off with a cropped leather jacket and show 'em how to really wear summer clothes in winter.
White Jeans Beyond Summer
It's likely that when you think of white denim, namely white jeans, you'll immediately associate it with warmer months or sunny winter getaways. While there's no rule per se when to wear white denim, it's most probably related to the practicality of it. To avoid the wet grubby look, pull out your cropped or skinny white jeans and team them with a contrasting pair of ankle boots for a more casual boho look, or if you want something a little more pulled together and glam, a pair of pointy-toed heels. Make your white jeans one of your go-to fall outfits by styling it with a chunky knit turtleneck, and for those extra-cool days, add an extra layer in the form of a cozy faux fur coat.
Statement Sunglasses – `An All-Season Staple
Every summer, designer statement sunglasses are ubiquitous. Brightly coloured cat-eyed sunglasses, to oversized Jackie-O-inspired sunglasses styles and oversized visor shaped wrap sunglasses are showcased by pretty much every fashion aficionado. Today, summer eyewear is never an afterthought; instead it's a sartorial focus, which is why it's such a shame to allow your favourite sunglasses to sit and gather dust until next summer rolls round.
Take inspiration from Vogue's editor-in-chief, Anna Wintour, and give your sunglasses an outing whenever and wherever you can. In fact, never leave home without them, be it for a brisk walk through the park, for a casual al fresco brunch with the girls, or on a Christmas shopping trip. Pair them with a chunky sweater, an oversized scarf, a woolly bobble hat, or a maxi dress layered over trousers to create that enviable and effortless autumnal look.
Panama Hats – Always a Good Idea
Not just for your quintessential British summer, it's fair to say that the beloved Panama hat is having a special moment. When you invest in a good quality summer hat, it's likely it's going to see you through the years, which is why it'd be such a pity to only be able to wear it a few months of the year.
While felt fedoras are the norm in fall fashion, the summer straw hat not so much. But there's good news on the fall/winter hat front, your trusty Panama hat can act as the perfect trans-seasonal accessory. Go incognito or channel your inner celeb and style your straw Panama hat with a pair of dark skinny jeans, heeled boots, and an oversized knitted cardi. To appear completely anonymous, add some dark sunglasses to the mix for an ultra-chic city look.
Previously, the weather has dictated what we wear, and still in some respects, it does. Steamy temperatures are more limiting, as the goal in summer is to style lightweight clothes to not only look on-trend, but to also be comfortable. Fall outfits are more flexible thanks to the ability to layer, mix and match, and continue accessorizing.
Experimenting with different summer staples to create an entirely new fall outfit is fun. It also allows you to add more of an individual touch to your look while staying warm and getting the most out of your summer wardrobe. So, if you haven't done your fall or winter shopping or you hate the idea of not getting the most out of your summer wardrobe, start styling your breezy summer items with some of your fall fashion staples.
How will you wear yours?