---
How To Organize Your Closet
---
As seasons change and the world shifts back towards its normal pace, it might be time to clean out your closet. Learning how to organize your closet can be a tedious, overwhelming process, but we promise that it's worth it to keep your space organized and your clothes ready to wear.
Lucky for you, you don't have to do this alone - we've compiled our top closet organization ideas for creating a closet that's clean, organized, and streamlined to help you have more time for the better things in life.
Clearing out your closet can be a difficult task, especially if you haven't done it in a while. Don't get overwhelmed by this big task - take a deep breath and do it one step at a time.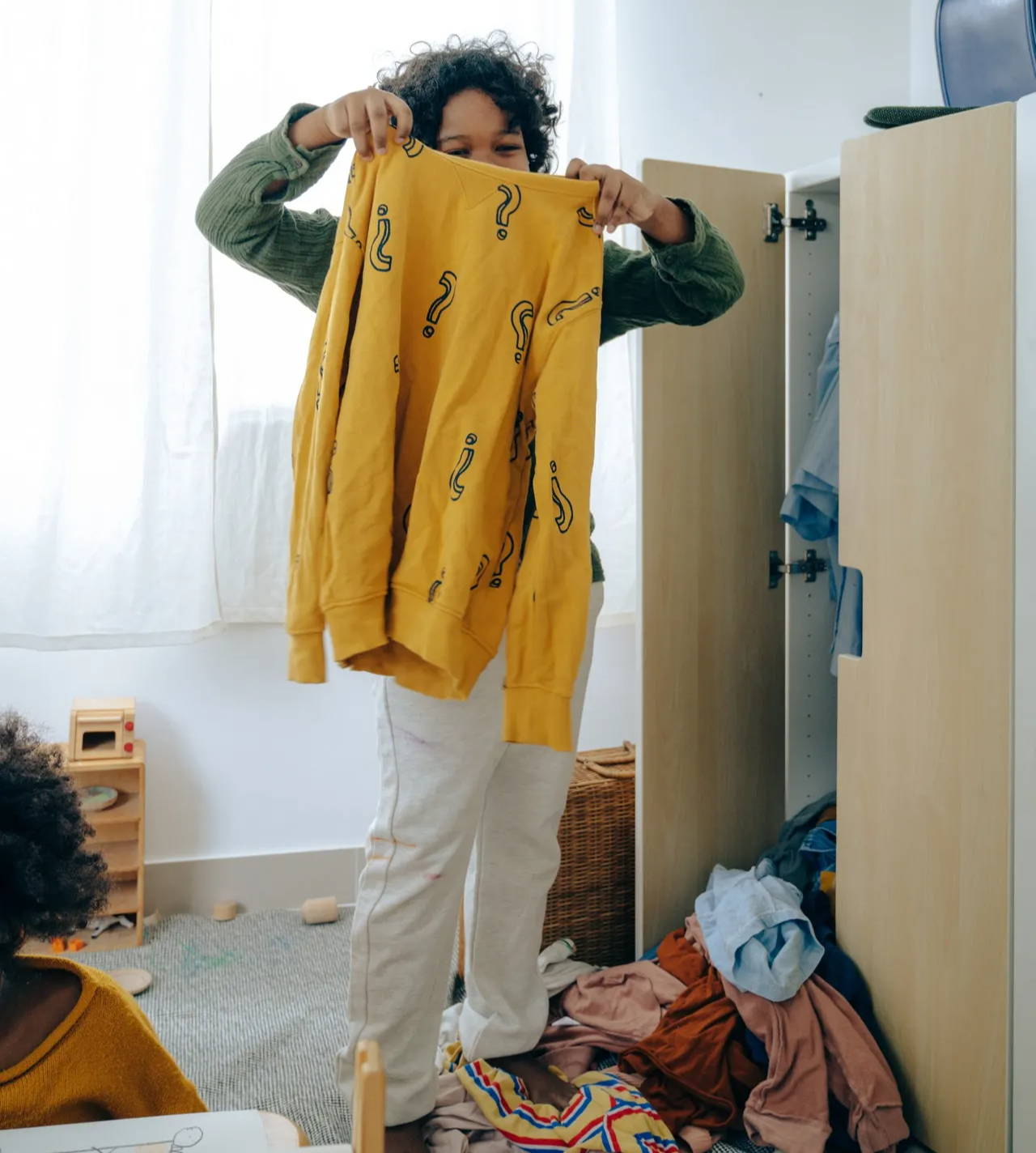 Sort Your Stuff Into Categories
One of our best closet organization hacks is to break down your collection and sort through it by type. Start by separating your pieces into general categories:
Pants/Bottoms

Tops

Dresses

Underwear

Accessories

Outerwear

Shoes
After you've organized your clothes by type, sort through every item in one category before you move on to the next. You can do this process all in one go or take it day by day. Just make sure that you have a safe place to keep all of these items if you plan on taking a few days to go through them.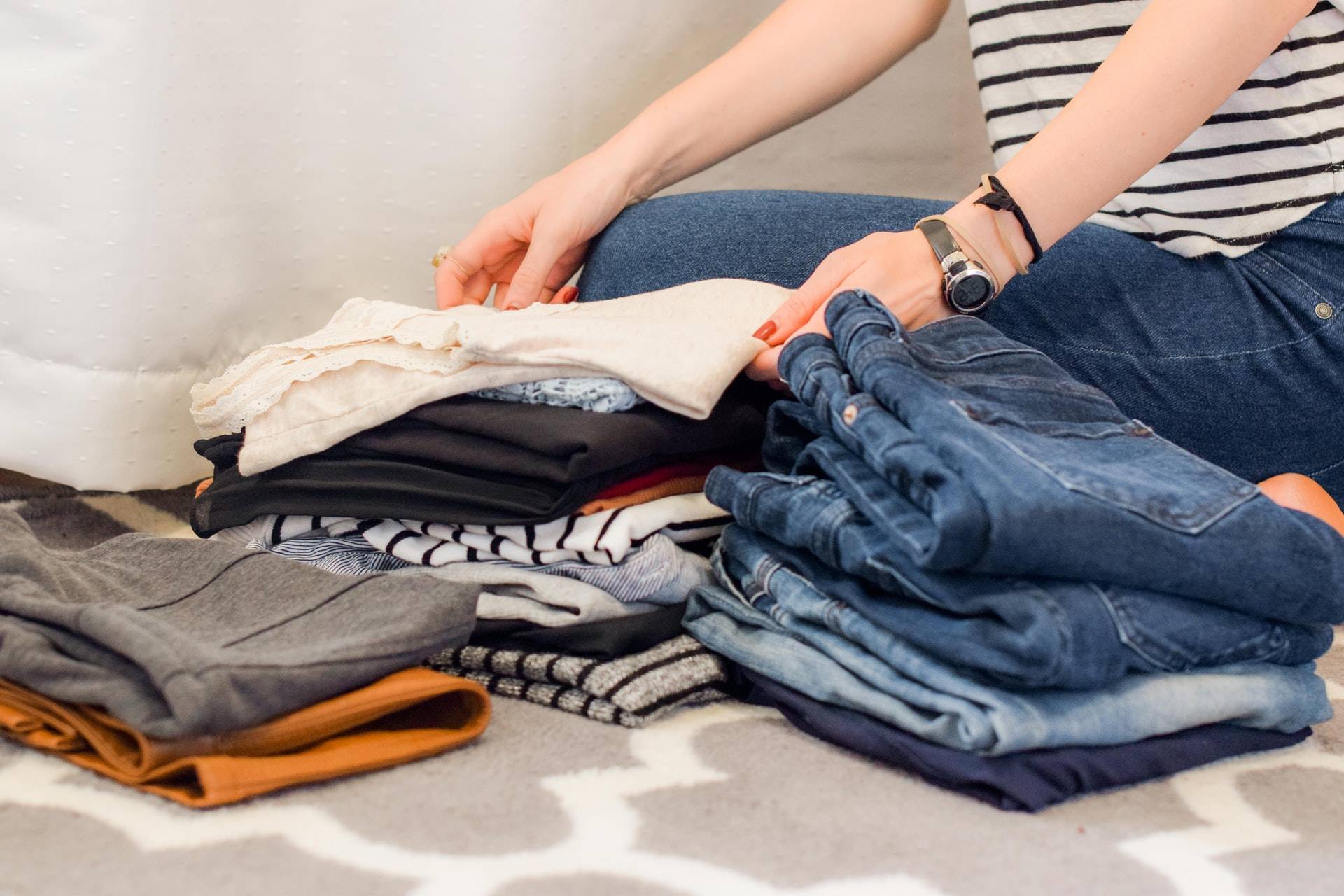 If You Don't Love It, Ditch It
As you go through your clothes category by category, make sure that you're only keeping the clothes you love and wear often. If you're hesitating about an item, place it in a separate pile and return to it when you've finished with the category. Evaluate these pieces against your keep pile - do you need it? Or is it better off in the "ditch pile?"
From a fashion perspective, we recommend hanging on to timeless pieces (the little black dress, the white button-down, etc.) and thinking twice about pieces that are trendy at the moment. How many times have you gone thrift shopping and been confronted by a wall of clothing that hasn't been in vogue since the 70s? While a few trendy pieces are great to have, try to opt for simple pieces that make you feel your best so that they'll stand the test of time and make it easy to be an all-star closet organizer.
Eco-Friendly Ways to Clear Your Closet
Congrats! You've weeded out the clothes in your closet and selected pieces to remove. But what are you going to do with them?
Millions of tonnes of clothing end up in landfills worldwide each year, and most researchers believe that the bulk of this clothing could be donated or recycled. Keep the planet in mind and try out some of these eco-friendly options.
This is the option that most people think of, and it's by far the most accessible. Most people can find at least one thrift shop close to where they live; many of these are run by charitable organizations that do extra good while taking your used items off your hands. Other great places to donate used clothing are crisis shelters and children's organizations, which tend to impact the community directly.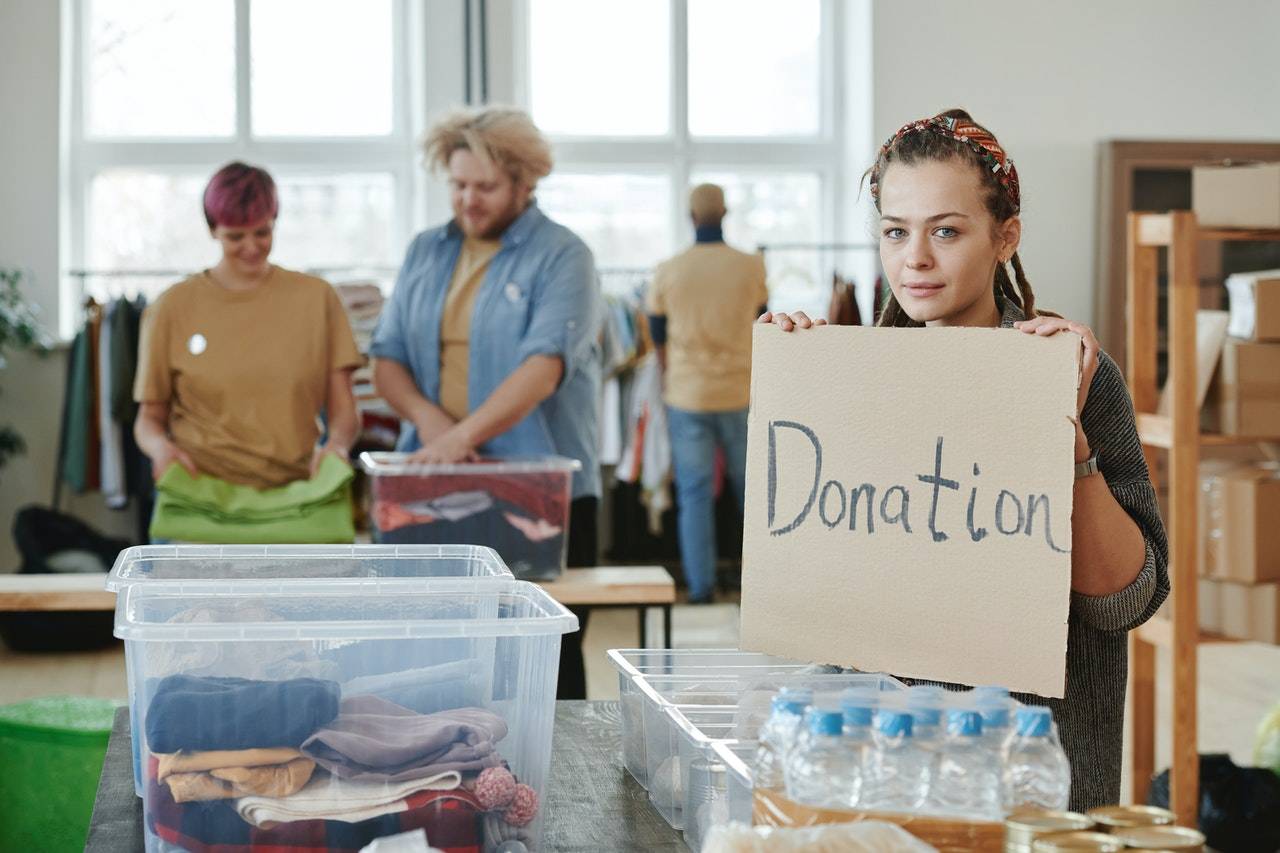 If you have friends who wear similar styles and sizes, hosting a clothing swap party is one of those closet organization hacks that's perfect for giving everyone a free wardrobe upgrade while caring for the planet.
The concept is simple - you bring your gently used items to someone's house and swap it with items you want. Keep it organized by sorting clothing into categories, much like you did when you cleaned out your closet. After the party, donate any leftover clothing. And voila!
This might be a less accessible option, but it's worth looking into. Textile recycling plants are similar to traditional ones, except they focus on breaking down clothing and other textile items to be used in new products.
If you can find one of these plants near you, they're a perfect way to get rid of clothing that cannot be swapped or donated, such as items that are torn beyond repair, stained, or burnt.
If recycling isn't an option for whatever reason, and your items are too damaged to donate, consider trying to repair any garments that might be salvageable. Sometimes all it takes is some new buttons, a cute patch, or a new zipper to bring an item back to life.
If you can't repair your old clothing, you can still repurpose the fabric for many projects. Cotton and polyester can be torn up and made into rags for cleaning, denim makes excellent aprons, and there are tons of cute tutorials online for any number of projects you want to make with your old clothes.
Part 2: Building Your Ideal Closet
Now that you've sorted all of your clothing, you might be tempted to just put it all back into the closet as you had it. But you have an opportunity here - why not take the time to create a beautiful, functional closet that helps you level up your routine? We've compiled some of our favourite closet organization ideas to help you create a space that's perfect for your lifestyle.
Now that you have your clothing taken care of, it's time to clean out anything else you might have stashed in your closet. Remove all items from your closet and set them aside.
Once you're staring at a bunch of empty shelves and hanging rods, it's time to get cleaning. Don't leave any space untouched - vacuum the carpet or clean the floor, wipe down all of the shelves and hanging rods, and scrub any scuffs or dirt from the walls. Already, your closet should feel fresh and new, ready for anything you can throw at it!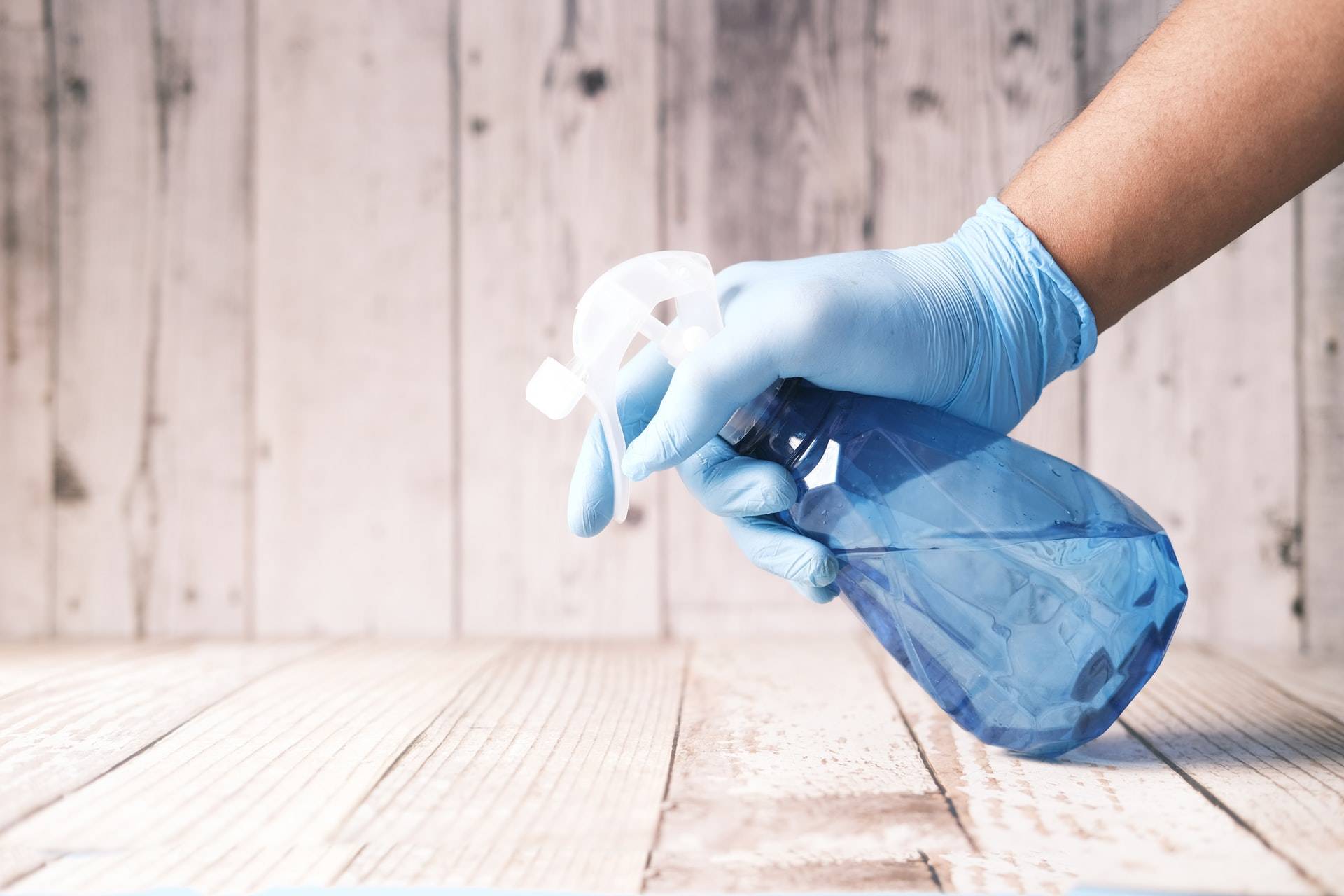 This step depends on your personal space, time, and budget. No matter what you're planning to do, start by making a note of your closet's best features. Do you have a ton of vertical storage space or enough hanging rods to hold everything you own? If you're more of a visual person, write down the things in your closet that are already working for you.
Once you're finished with that step, start thinking about the features of your closet that need some work. Maybe there's a hanging rod set so low that it's a pain to use it. Or perhaps you don't have near enough shelving for all of your stackable items. Write down a list of all of these problems, and brainstorm some closet organizer ideas to fix them within your budget.
Our Top Closet Organization Ideas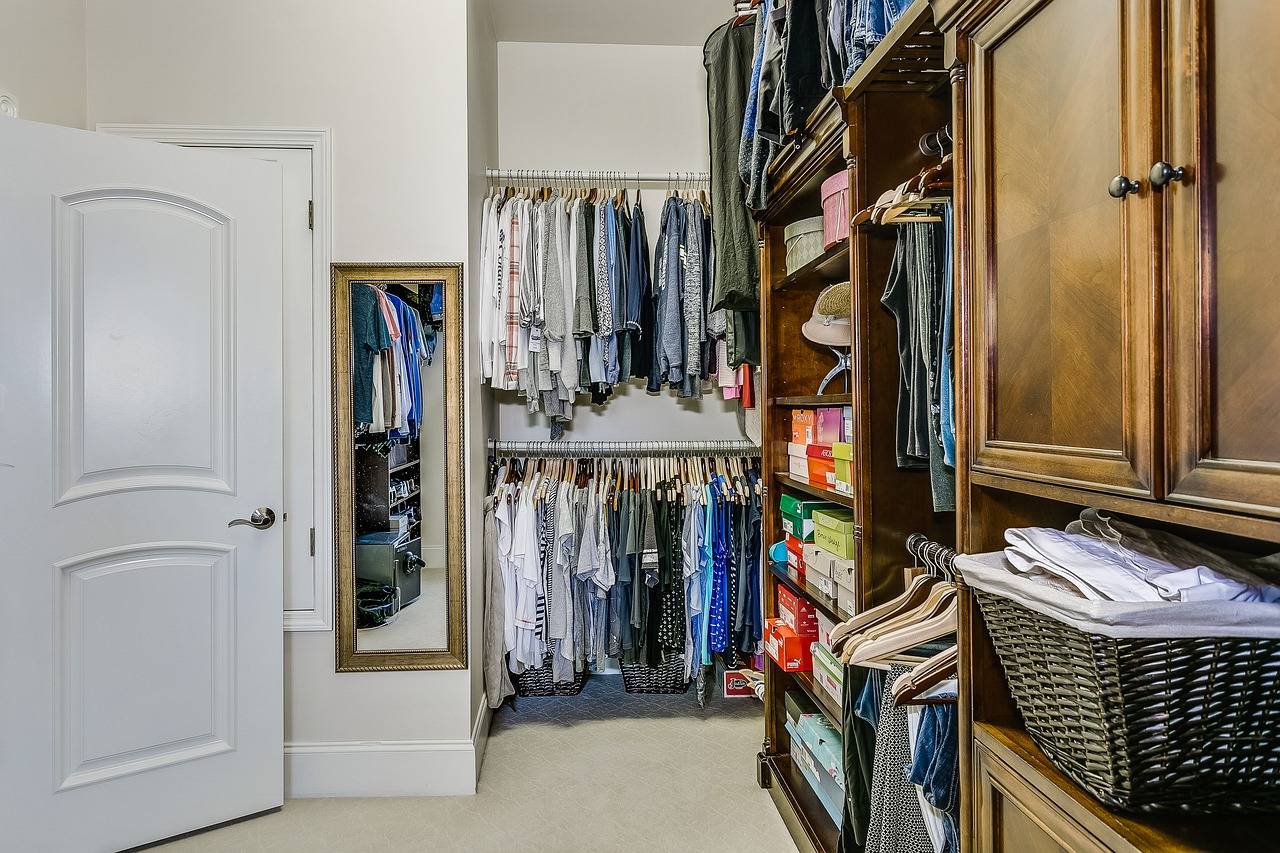 1. Maximize Your Vertical Storage Space
Vertical space is a closet's best friend, especially when there's no room to extend your storage in any other direction. Using walls, the sides of shelves, doors, and even the dead space between the hems of your hanging clothes and the floor to store more items can help you spread your wardrobe out and make it easier to visualize and organize.
Take advantage of these spaces by using things like an over-the-door shoe hanger, adding small DIY shelves for accessories, or adding hooks for difficult items such as scarves and belts. Even if you add a small hanging closet organizer for your most difficult items, it's worth it.
Drawer dividers are truly the kryptonite of a messy closet - they can help keep smaller items such as socks, tights, and undergarments neatly organized inside drawers, keeping them easily accessible at a moment's notice. The best part? You can make simple, cute drawer dividers out of cardboard (try this tutorial).
3. Have a Dedicated Place for Your Shoes
Shoes are often the bane of an organized closet - their bulky, awkward shapes make it difficult to effectively put them in amongst your clothing and accessories. Thus, it's essential to have a dedicated place to tuck your shoes and keep them out of the way. Whether it's cubbies, a standing shoe rack, or a hanging organizer, giving your shoes a home keeps them from getting tangled in the bottom of your closet.
4. Be Mindful of Your Hangers
Nothing screams closet chaos quite like a random mix of wire and plastic hangers tangled above your hanging items. Take control of your closet physically and visually by coordinating your hangers for a sleek, organized look. Invest in hangers that suit the clothes you have - wooden hangers are the bane of silky dresses and blouses, while flimsy plastic hangers might not hold up to the weight of a suit.
Don't be afraid to invest in a few unconventional hangers, either - they're often embodiments of popular closet organization hacks and can save you a ton of time and effort. For example, circular hangers can be perfect for camisoles and lingerie, while multi-shirt hangers can be fantastic space savers.
Part 3: How to Organize Your Closet Items
This is the fun part - putting all of your clothing and accessories back into your newly-optimized closet space. Don't just shove it all back in - there are a few simple things you can do to ensure that your closet remains functional even after you start to use it again.
Different clothing items have different storage needs, and blocking out your closet to ensure that every type of clothing has a place will make it feel more functional. Keep these rules in mind when you're searching for closet organizer ideas to ensure that your space suits your current wardrobe.
Items to Hang
Delicates (e.g. dresses, skirts, lingerie)

Fancy items (e.g. suits, evening gowns)

Sturdy, structured pieces (e.g. coats, blazers)
Why?
These items will generally wrinkle or crease easily if folded or are simply too long or bulky to store in other ways.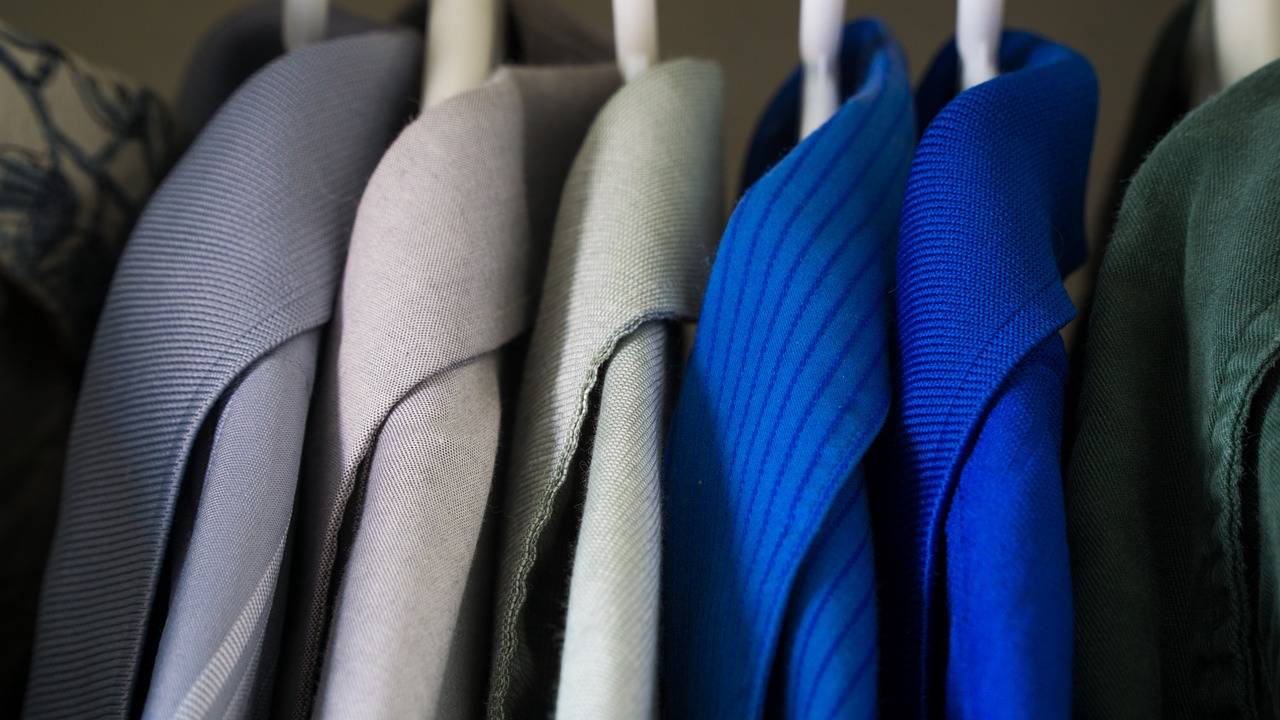 Items to Fold and Stack
Why?
These items hold up to stacking very well - they're not likely to slump, wrinkle, or lose their shape. They usually take up too much space in drawers, but they're perfect for stacks because you can see each individual item clearly, making finding your favourite sweater or best jeans a breeze.
Items to Roll
T-shirts

Tank tops

Pyjamas

Leggings

Soft shorts
Why?
These items are generally made of cotton and polyester, making them pliable enough for the roll and tuck technique. This technique is a major space saver, allowing you to tuck rolled items into boxes or baskets for easy storage.
Organize Your Closet to Work With Your Behavior
Your closet is central to your daily routines, so streamlining its layout can take a lot of stress out of your mornings. One of our most effective closet organization hacks is to design your closet to be in tune with your normal behaviour. This method makes adjusting to the change a lot simpler, and you're going to love how it simplifies all of your routines.
Start by putting the clothes you wear the most at eye level in the middle of your closet. This makes them the most accessible and easy to grab during busy mornings. Pieces that you wear less often should be placed directly above or below these areas, while the items you wear the least should be relegated to the top shelf.
Another way to streamline your morning routine is to organize your clothing in the order you put it on in the morning. Whether it's top-to-bottom or left-to-right, start with your underwear and progress through your morning routine. This way, you can get dressed on autopilot and be ready for your day in half the time.
At the end of it all, you should be looking at a closet that's perfectly organized for your busy life. Take another deep breath and admire your accomplishment, then go out and crush your next goal!